Myride Academy Saigon: Vehicle is fitted with a full steel bracing to prevent damages in case of crash.
Myride Academy Saigon has officially launched a track prepared motorbike rental service. For the very first time in Vietnam, motorcycle passionate customers can experience motorcycle GP riding without having to own any equipment. The range of bikes goes from 150 to 600cc and includes KAYO 150 MiniGP, Race ready Exciter, Suzuki GSX-S150, Yamaha R3, KTM RC390, Yamaha R6…

What is unique in Vietnam about Myride Academy is that every bike have been tuned for the track: High-end racing tires, raised adjustable foot rest, GP shifting, full crash protection bracing, exhaust, YSS suspensions, reduced fairings and accessories…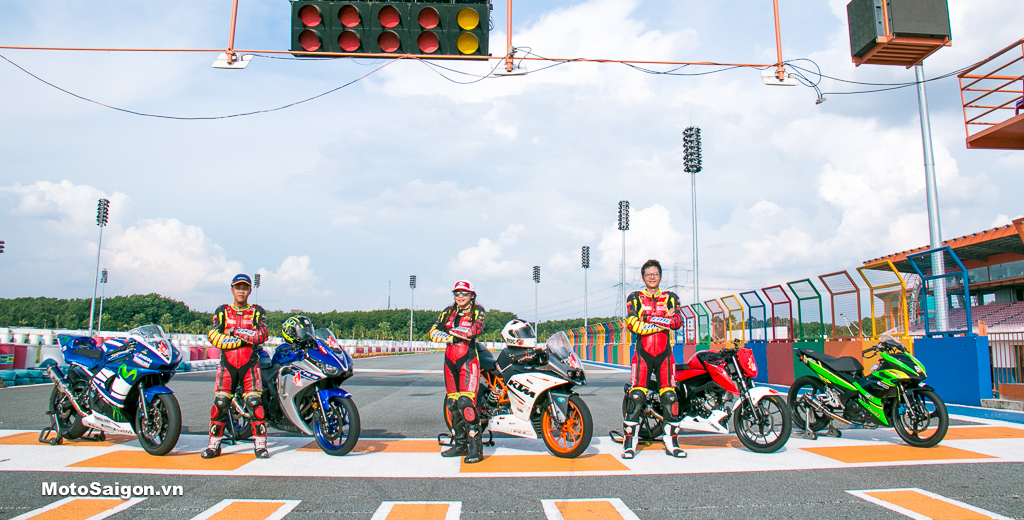 Myride Academy Saigon launches track Motorbike service.
The 5 types of bikes are currently rented by Myride Academy Saigon to bikers at an extremely reasonable cost.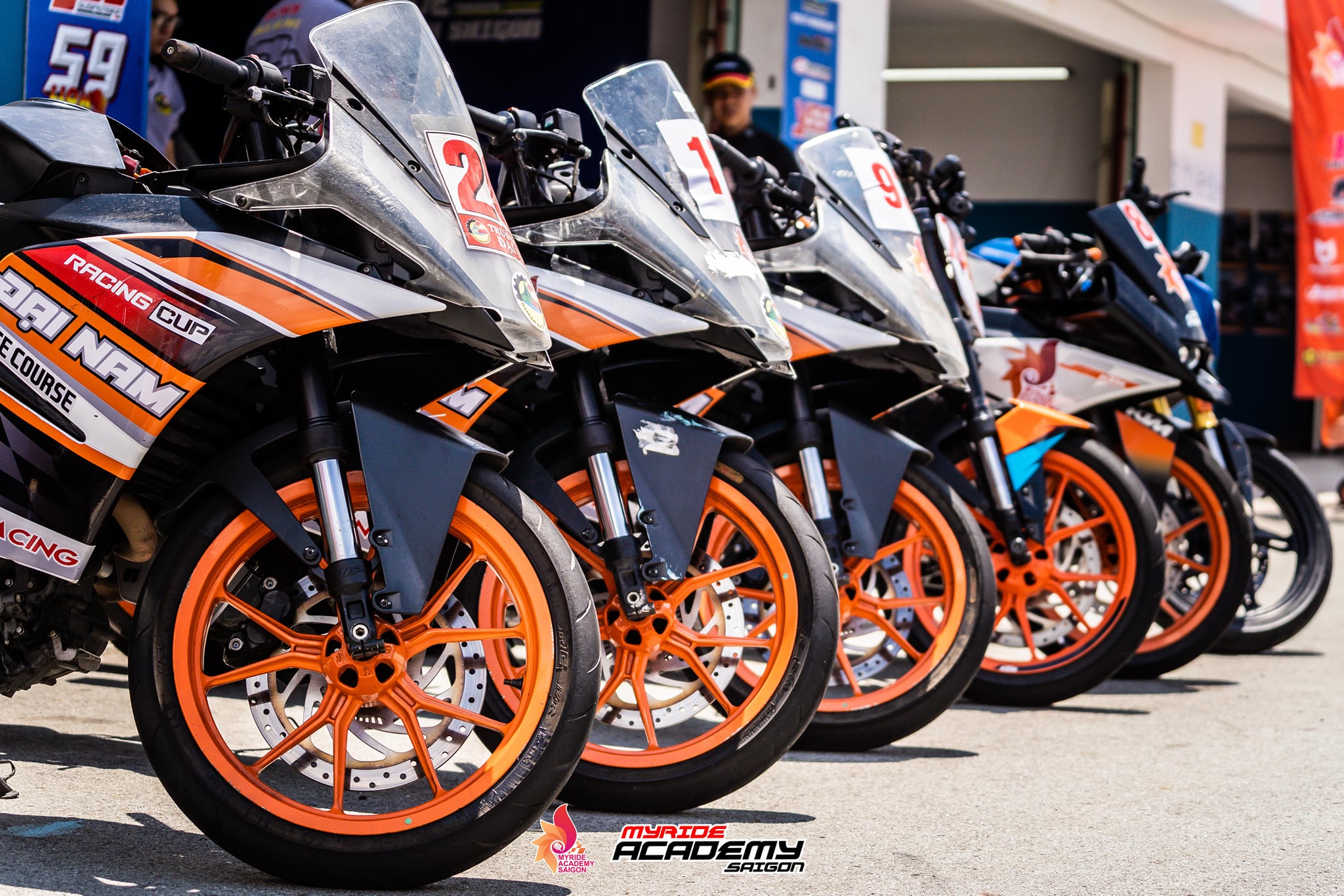 Myride Academy Saigon Rental service price list :
(Half-day price: 03 hours | Full-day price: 06 hours)
KAYO 150 MiniGP: 1,000,000 VND | 1,800,000 VND
Suzuki GSX-S150: 1,200,000 VND | 2,000,000 VND
Yamaha R3: 1,700,000 VND | 3,000,000 VND
KTM RC390: 1,700,000 VND | 3,000,000 VND
Yamaha R6 Racing & Exciter 150 Racing: Contact.
(The car are set up to the rider and filled up with gas.)
Full protection gear set rental service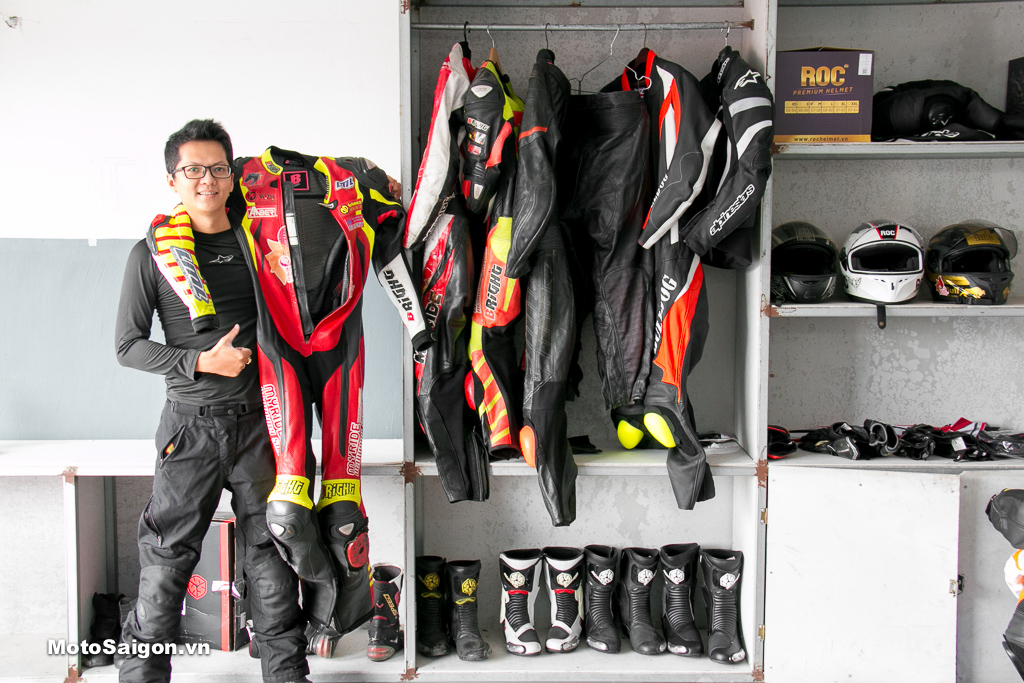 In addition to the motorbike rental service.
Myride Academy Saigon also provides all the necessary safety equipment for the riders:
High-quality leather suit, high-end helmets, leather Gloves and high protection boots in all sizes from 1m50 to 2m high customers.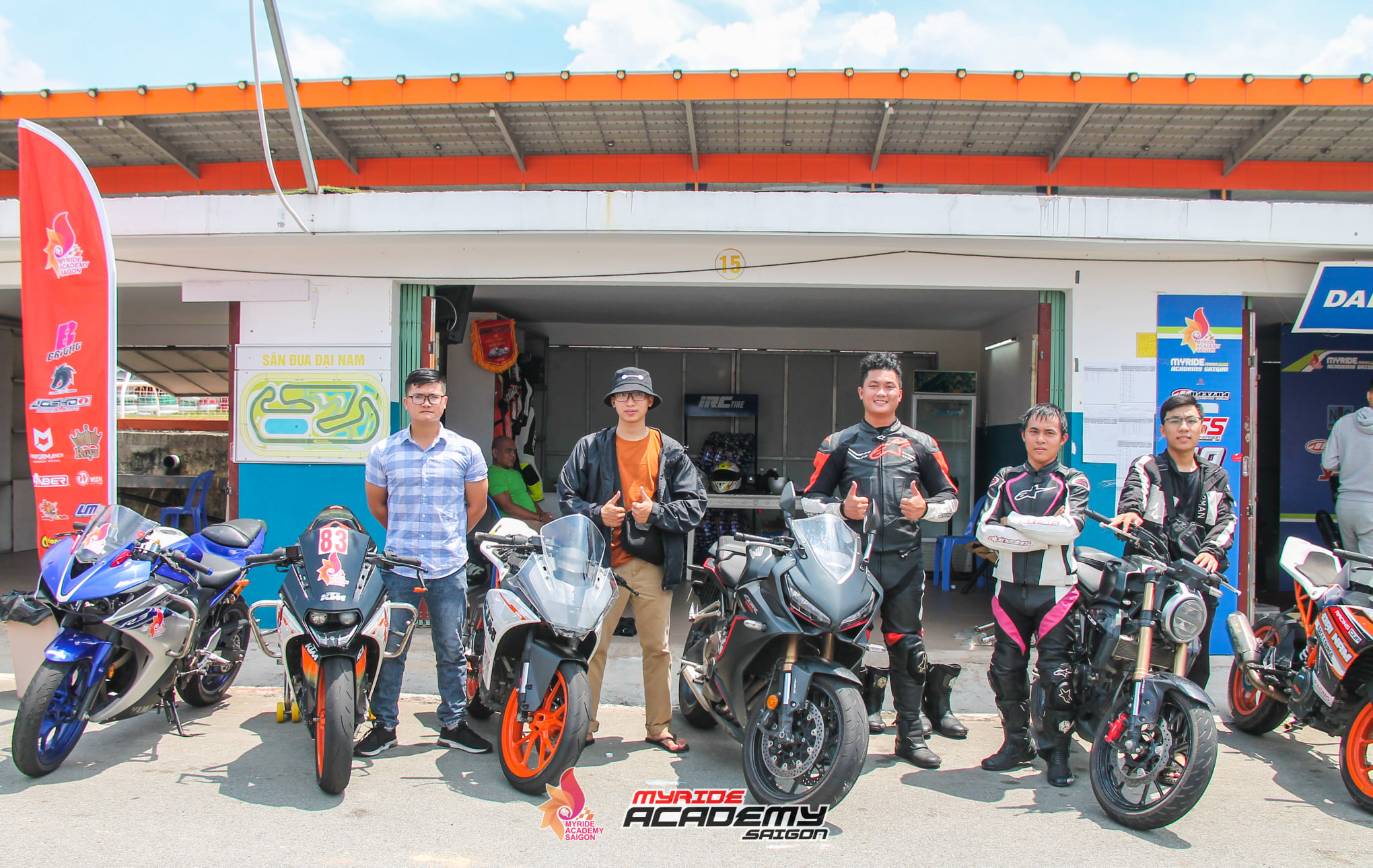 For customers who have rented a bike, the Full protection gear set is only VND 300,000 and includes :
1 piece or 2 piece leather suit, inner underwear, 01 helmet, 01 pair of gloves, 01 protection boots.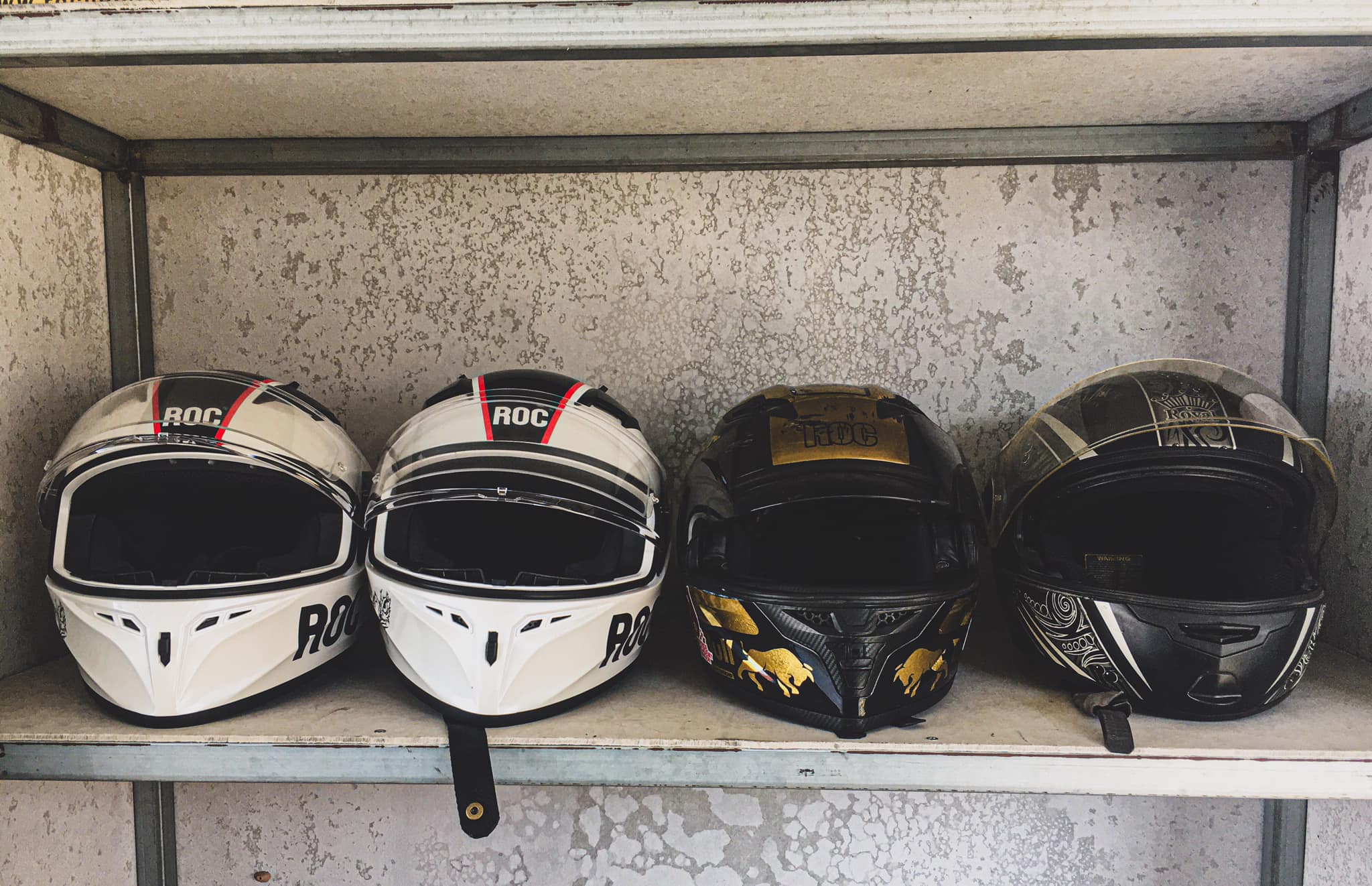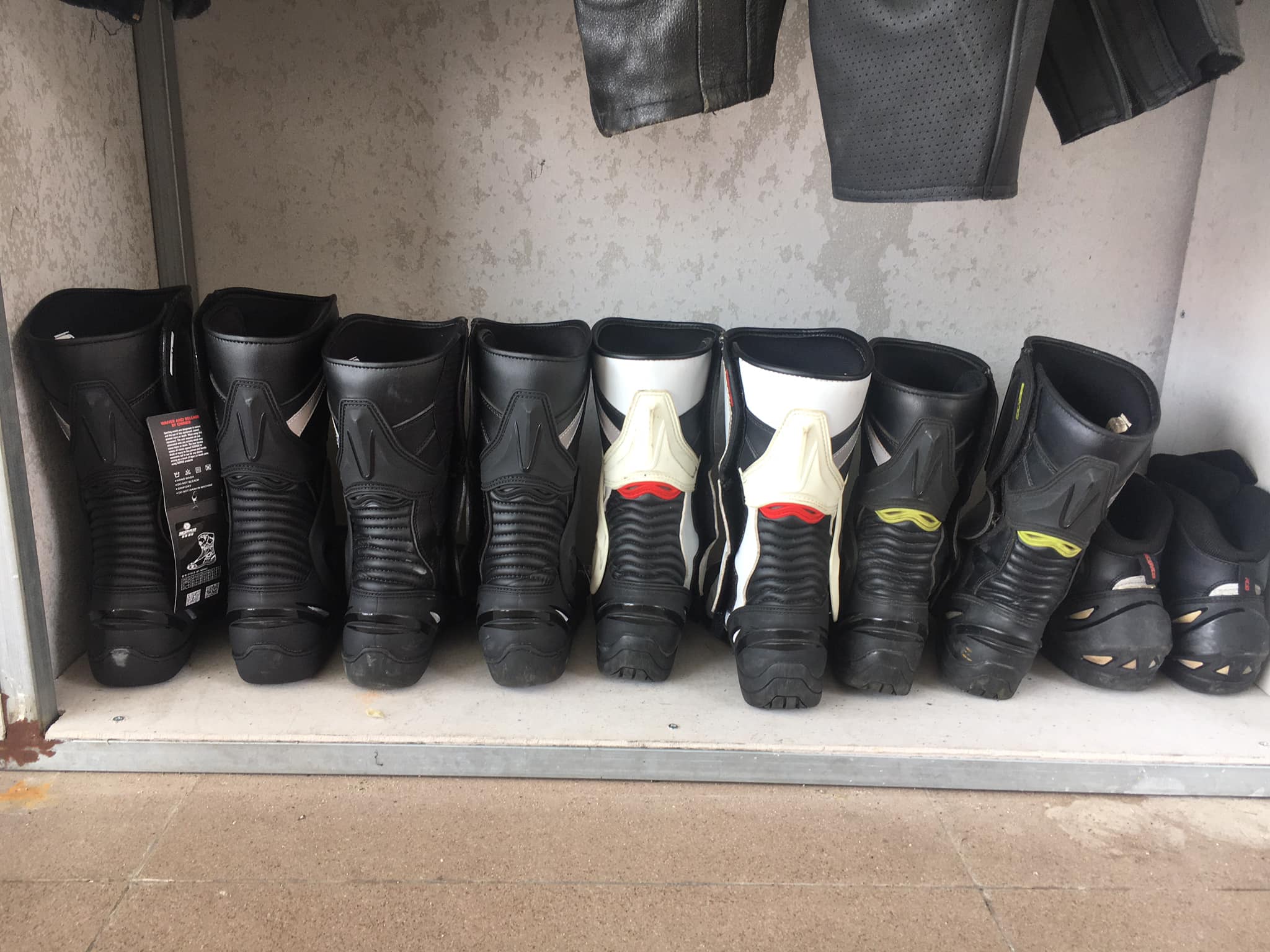 Motosaigon experiences Myride Academy Saigon Race bike and protection gear rental service.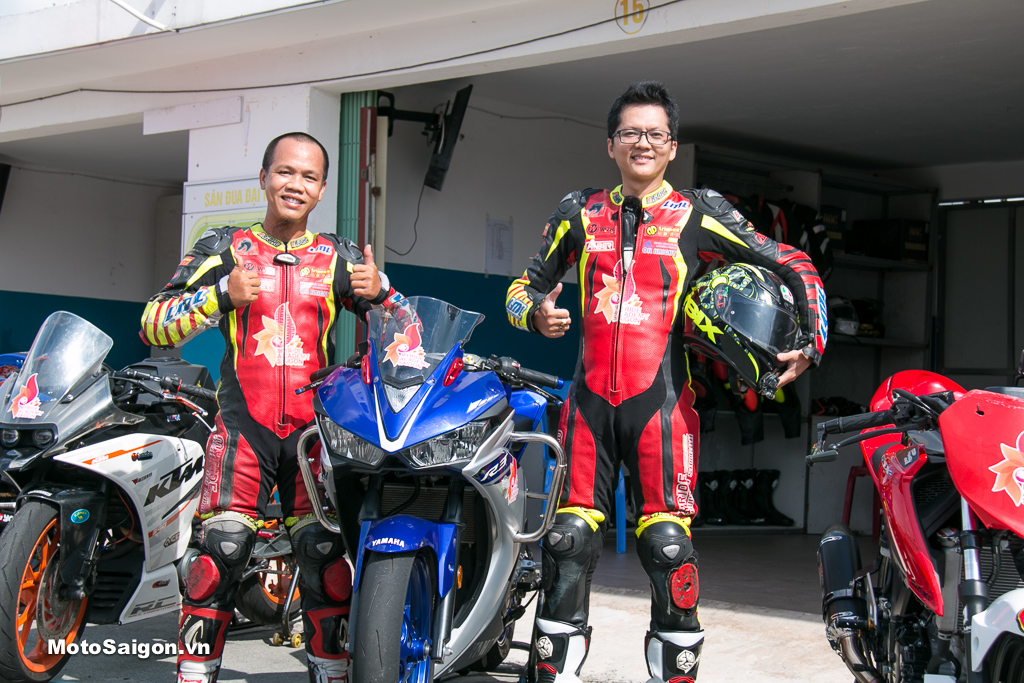 I'm 1m72 tall, wearing perfectly fitted Full suit as shown above. There is also a wide range of shoes sizes to choose from.
Professional riding and racing skills training course from Myride Academy Saigon.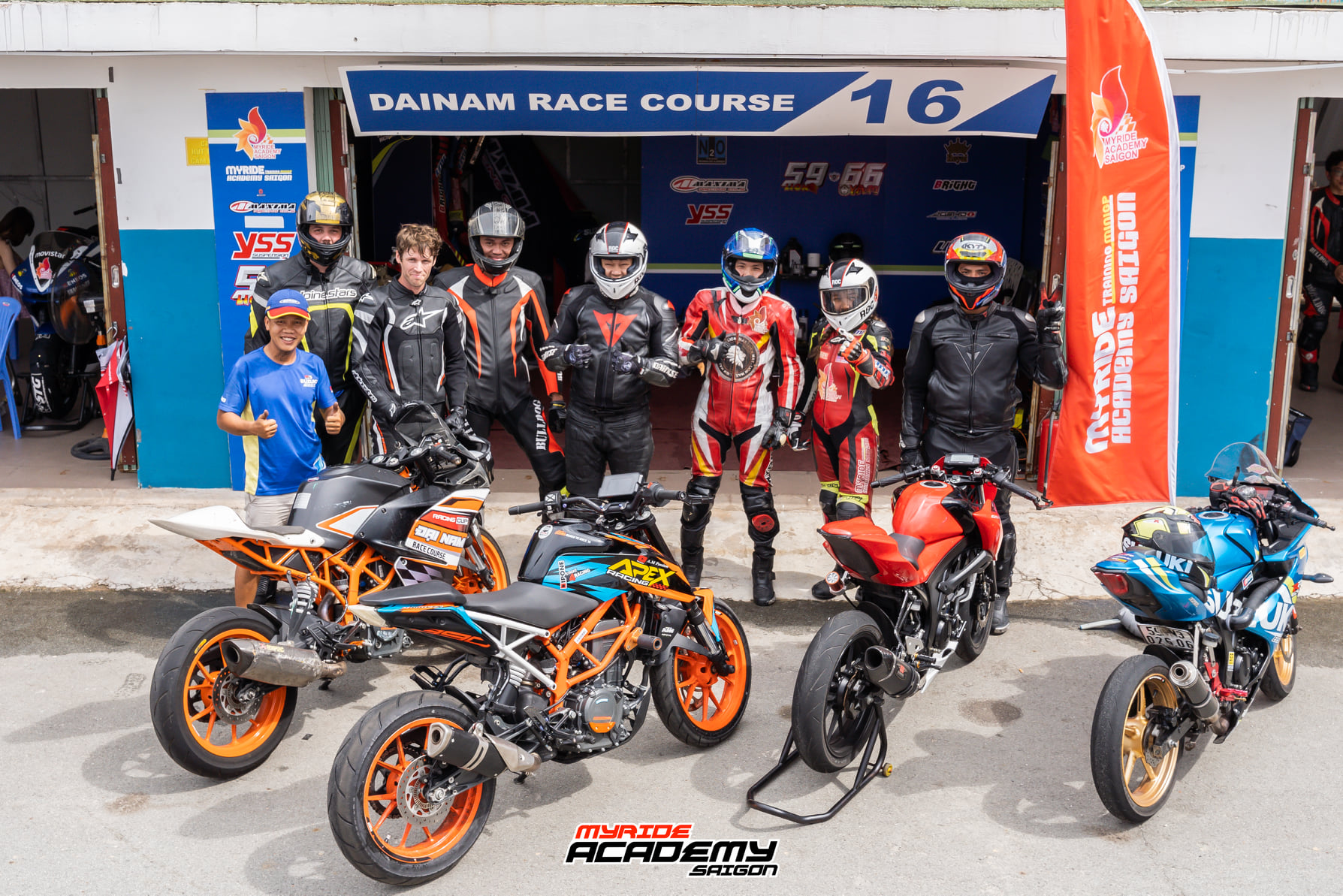 Myride Academy Saigon (MAS) has built a training program for riding and racing skills. MAS specializes in training professional racers but also providing technical guidance on touring riders. They have tailored programs for both the riders that are looking for speed and those that want to enjoy safe rides on the road.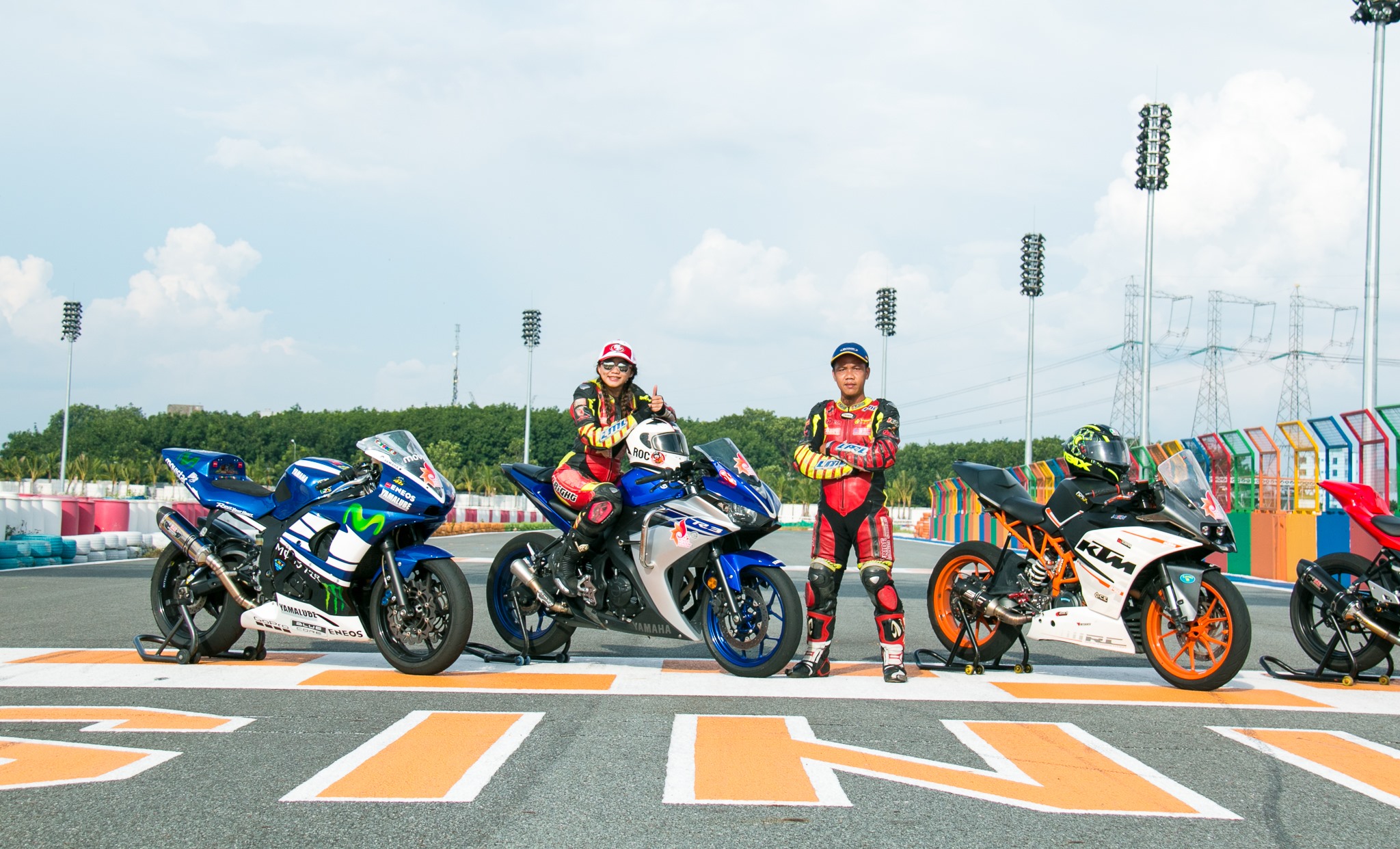 Mr. Huỳnh Duy Phương (Head Coach) and Ms. Võ Huyền Thiên Thư(Coach).
MyRide Academy Saigon has been certified by Josho1 Hyper Racing to instruct about professional racing skills.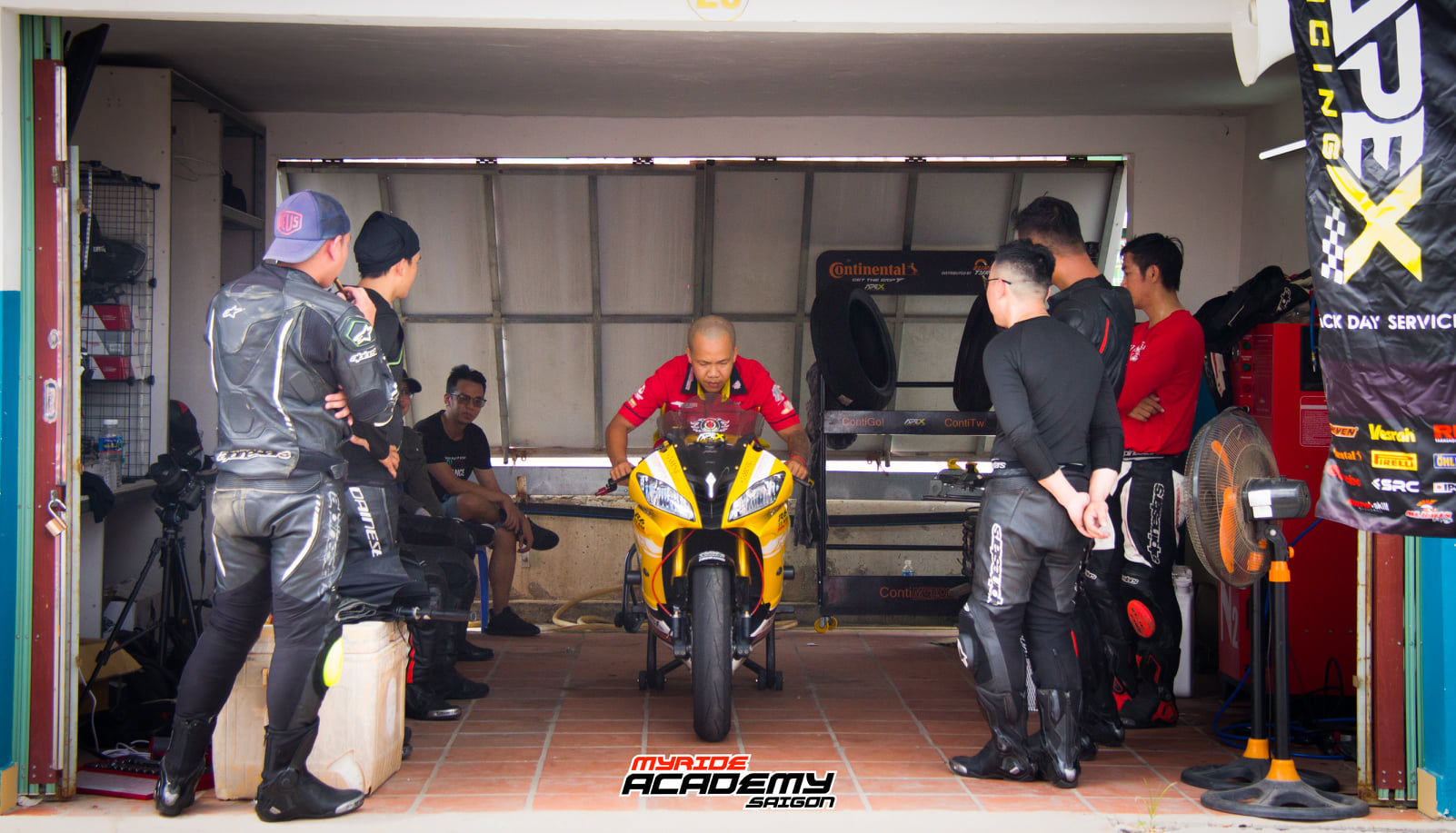 Professional racing skills training course for any types of bikes. From scooters, underbone 150cc to sportsbikes 600cc~1000cc.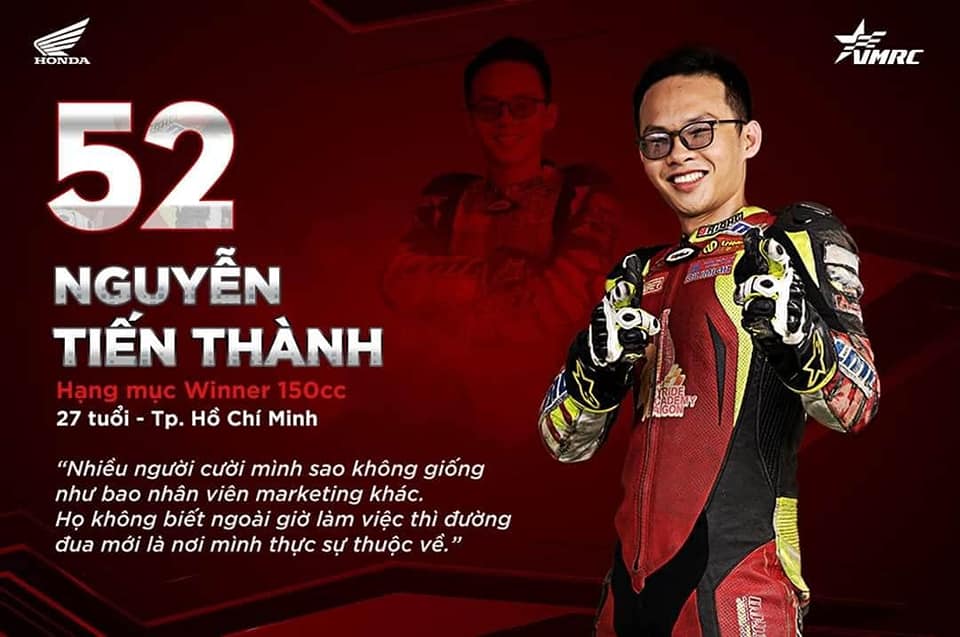 Myride Academy Saigon has also trained over the years many of the current professional racers and athletes. Some of the best performing on the domestic professional racing scene such as VMRC, Yamaha GP, etc.
Details: Professional driving & racing skills training program http://myrideacademysaigon.com/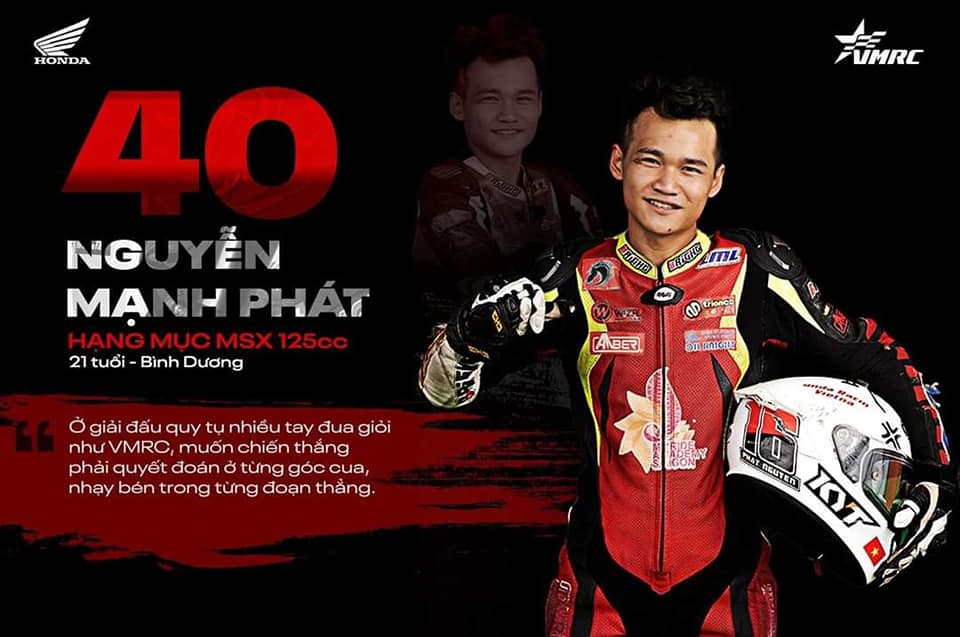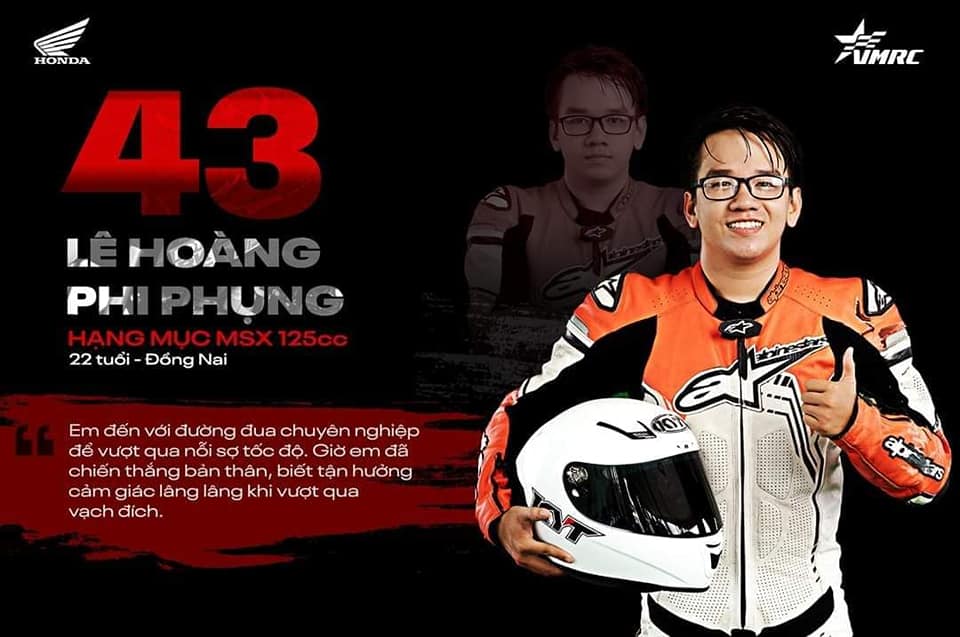 Value-for-money bike rental and protection gear at Myride Academy Saigon
All rental bikes are kept in the best condition.
Filled up with gas when delivered to the rider.
Vehicle is fitted with a full steel bracing to prevent damages in case of crash.
Bikes are tuned for the track: Powerful engine, high-quality racing tires, racing rearsets, YSS racing suspensions…
Protective gear of many sizes to choose from & kept clean.
Customers are all set to get the maximum confidence when railing the racetrack corners.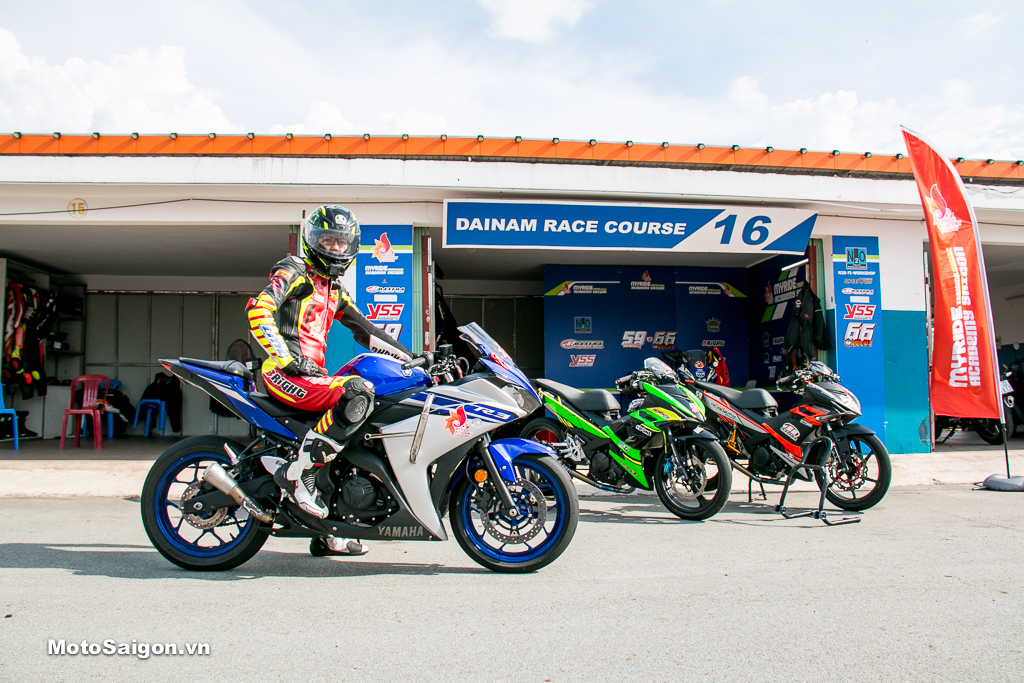 During my day experiencing these service at Dai Nam Racecourse, I chose to rent a Yamaha R3 model because it was equipped with a crash-proof bracing, a racing exhaust, a lowered handlebar and a YSS suspension kit.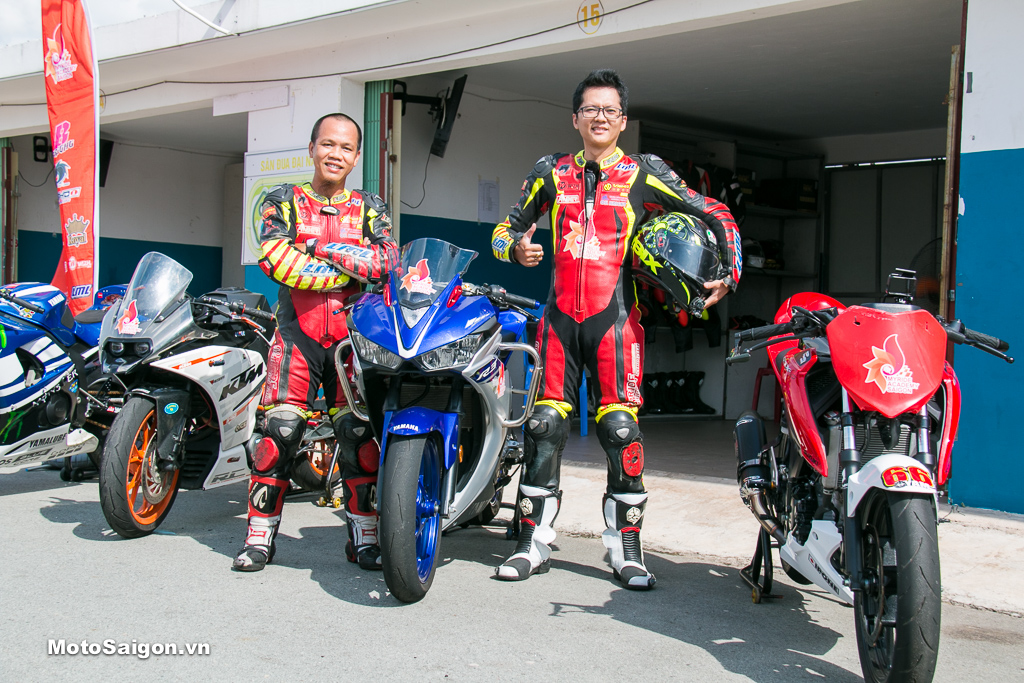 Thanks to the coaching of Huynh Duy Phuong, I have started the day with correcting my riding posture and improved coordination with hands, feet and head, etc …
Thanks to this learning is got on the track more confident and improved lap after lap.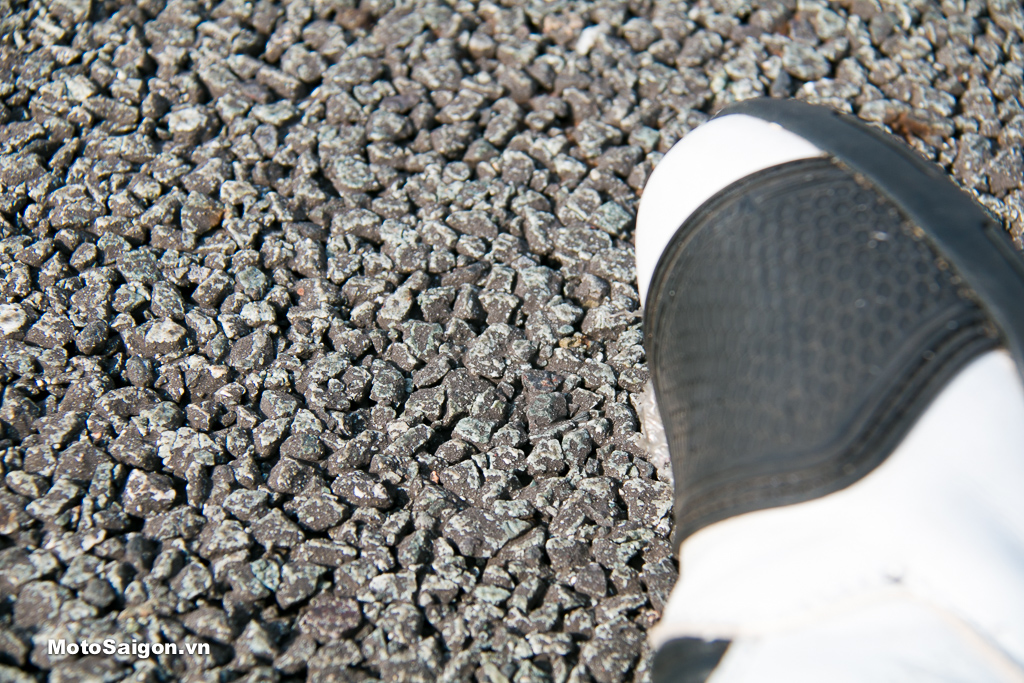 If you are a motorbike owner, you can of course bring your own bike to the track but there are risks and costs associated.
Such as :
– Tires are not up to track standard and make the riding dangerous
– some accessories must be removed and other risk to be damaged in an event of a crash
– Suspensions are not tuned
– Fairings are not protected
– Rearsets are too low…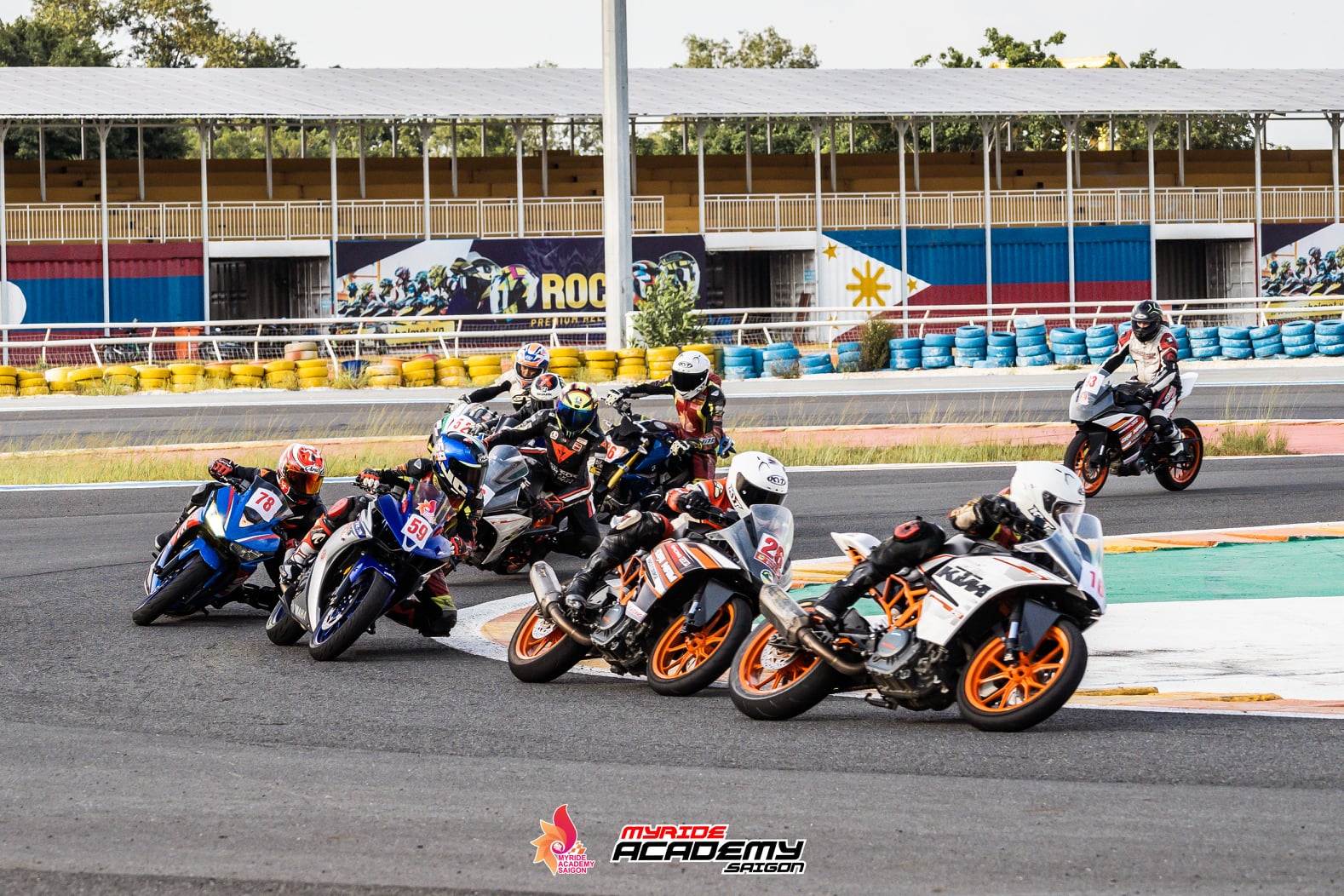 You can contact Myride Academy Saigon directly for more details:
VN: 0969.29.3136 Ms.Yam
EN: 0944.67.0449 Mr.Florent
Wedsite: http://myrideacademysaigon.com/
Fanpage Myride Academy Saigon https://www.facebook.com/MyRideAcademySaigon